Online Bachelor of Arts in Integrated Social Sciences
Student Stories
Completing your bachelor's degree at the University of Washington can open doors to a new future. Whether your ultimate goal is a better job, graduate school or personal fulfillment, earning a Bachelor of Arts in Integrated Social Sciences at the UW can help you get there.
Here are a few examples of the impact this degree can have on students' lives and careers.
Maria Capella-Morales
"The ISS program allowed me to explore my interests in virology, health equity and political science. After realizing that I wanted to apply the knowledge I gained in these classes in a practical way, a career in public health seemed to be the right fit."
---
Alyssa Johnston
"The support of the faculty and the tools I gained through the ISS program truly helped pave the way to make it all come together."
---
Ericka Journee
"This program offered new insight. They preached the broader, global perspective ... Now when I start my new career, I'll be more culturally sensitive and aware that different communities and beliefs influence people, their decisions and how they do things."
---
Courtney Ortañez
"With ISS, I was able to polish my writing and communication skills, learn how to leverage research to make the greatest impact and stand more fully in my identity as an activist."
---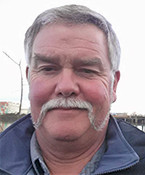 Vince Savery
"The fact that I'm in this program has helped me get a new job … I think the agency was interested in hiring somebody who was a bit more educated than I would have been had I not been in the ISS program."