Online Bachelor of Arts in Integrated Social Sciences
Finding His Calling, and a New Job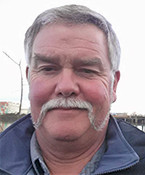 Vince Savery
Vince Savery wasn't thinking about a career change when he entered the online Integrated Social Sciences bachelor's degree completion program. He was motivated by the chance to finish his degree and excited about the opportunity to study environmental and social justice issues.
But the ISS program opened unexpected doors for Vince. Previously a manager and shift supervisor in the transportation industry, he credits the program with helping him land a job doing environmental and community work at the Puget Sound Clean Air Agency. The position involves helping freight trucks meet federal emissions standards, improving air quality and boosting the health of people who live in industrial areas.
We talked with Vince about how the ISS program has helped change his career and his life.
---
Can you tell us a little bit about your background?
I've been a truck driver and mechanic since I was 19. When I was younger I spent a fair amount of time working, and then I went to community college and got an associate's degree.
I have also volunteered with EarthCorps over the last few years, helping to lead groups restoring the Duwamish River, with the goal of improving estuary areas for migrating salmon. This work integrates past industrial use with community efforts to improve the environment and neighborhood livability.
What prompted you to go back to school to finish your bachelor's degree?
I've always wanted to do something more academic with my career. I have three trade school degrees, and I didn't want this experience to be another trade school. I wanted to explore non-trade aspects of learning – academic and ethical considerations, different ways of thinking about a given subject.
Over time, I've found that I'm interested in the social aspects of environmental projects, so I thought this program was the perfect combination. As part of this program, I hope to complete a study on how the Duwamish River Valley, the Duwamish tribe and the Seattle industrial community can all work together.
How has the ISS program opened up new career options for you?
The fact that I'm in this program has helped me get a new job with the Puget Sound Clean Air Agency. I work with truck drivers, getting them to take part in a grant program to recycle their old trucks and help them buy newer ones.
I'm also working on clean air issues and social justice issues with groups that are operating the trucks, and with those living in the area where the trucks operate. The people that live in the industrial valley near the Port of Seattle and the Port of Tacoma are typically lower income. They have very little control over where they live and even less over the air quality in the area.
Did you need a college degree to get this job?
I think the agency was interested in hiring somebody who was a bit more educated than I would have been had I not been in the ISS program. They also wanted somebody who displayed an interest in social justice. I had the perfect combination of trade experience and training and was enrolled in a program with a social justice emphasis.
In the long term, what do you hope to gain from earning your degree?
I think it's going to help me be a better critical thinker, and hopefully a better speaker and better representative on these environmental and social justice issues. I want to be able to consider what the issues are academically, and to influence policy in a more productive way.
What is the online aspect of the program like for you?
I couldn't do this program without the online flexibility. At first I didn't know if I'd learn enough without having direct face-to-face interaction with the instructor. That's proven not to be true. At this point I actually prefer to take classes online, rather than in a bricks-and-mortar classroom.
Why do you prefer online classes?
The discussion groups we have online are really dynamic, really cool. There are multiple voices, and I think that people are able to write more in depth. What we write is there to read over later – we're reading it and then thinking about it, processing it. And then we can respond in a way that's thoughtful. These are very addictive – the discussion gets very involved, more than it might in a one-to-one conversation.
Does the fact that this program is offered by the UW make a difference?
I've always wanted to attend the University of Washington. My grandfather and my parents went there. As a kid I rode my bike through the campus almost every day. To be able to say that I completed a degree program at the UW is going to be very rewarding.